Dear Valued Factory Manager and Purchasing Manager,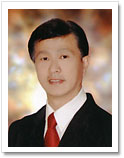 Mr Desmond Lwe
( Managing Director )
It is my great pleasure to introduce SEMICON AUTOMATION SYSTEMS to you.
SEMICON AUTOMATION SYSTEMS is a well established One-Stop semicon automation component solution provider and supplier in Singapore since 1997.
We are one of the leading industrial suppliers of automation technology for organizations in both local & regional countries. Maximizing efficiency and ensuring effectiveness of factory automation are our main forte.
Our expertise in providing consultancy on how to maximize the return of factory automation investment are well recognized and most valued by our customers. We work closely with our valued clients in evaluating their automation processes and machine components, and provide advice on how to enhance the productivity of the production lines and machines.
In SEMICON AUTOMATION SYSTEMS, we work with our valued clients based on long term relationships. We have teams of the most dedicated and well qualified professionals who are fully committed to serve and support our valued clients. For more details about our company and services, please visit our website www.semicon-auto.com. Alternatively, please feel free to contact me should you need further details about our services.
May your days be filled with happiness and HASSLE FREE sourcing experience!
Happy and Well Blessed to you always.
Yours truly,
DESMOND LWE
(Managing Director)
Email: desmond@semicon-auto.com
Websitie: www.semicon-auto.com